Seasoned Apple or Ash logs delivered to the Sevenoaks area
We are suppliers of both Apple and ash split logs delivered directly to your door. Forget trying to burn freshly cut wood that won't light, spits and burns the carpet. All our logs have been stored, seasoned and split correctly into easy to handle sizes.
*We stock only the best quality wood, seasoned Ash and Apple.
*All firewood is available in either small carry bags (from yard only) tall barrow bags or large bulk bags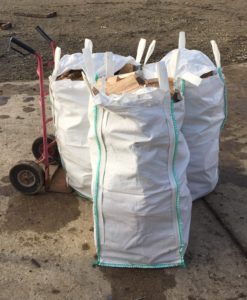 *Kindling bags are also available
Prices
Well seasoned Apple or Ash
Larger bulk bags – £70

Tall barrow bags -Mininum 3 bags delivered or single bag collection from the yard – £30 perbag (plus £3 deposit for bag)

Kindling – £6

Stacking service – £10 per bag ( must be booked before delivery)
Burning wood benefits
* Wood is easy to store and burn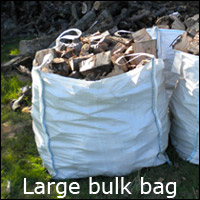 * Great aroma when burning
* Small amount of ash
* Dried wood burns at a higher temperature
* Burning wood is eco friendly
Opening Hours
Phone Line hours: 9.00 am till 17.00 pm
Yard open on Saturdays from 10.00am till 3.00 pm (Closed Sunday)
Tel: 01732 850055
Delivery Information
Free Tonbridge delivery
Delivery for Tunbridge Wells, Sevenoaks and surrounding Tonbridge area £5
Please note, logs will be offloaded as close to your intended location as the vehicle can reach (we do not provide a stacking service)

How to Light a Fire in a Wood Burning Stove
Like a conventional fire, you can either start your wood stove fire with Firelighters or old Newspaper. Add several sheets of scrunched up paper to the top of the ash. Next add small bits of Kindling, on top of your paper or firelighter, typically arranged in a 'wigwam' pattern. Kindling is any easy burning material but typically a soft wood like pine chopped into small pieces, We sell kindling for £6 per bag.Have larger pieces of dry, seasoned wood ready to add as the fire catches hold.
Your wood burning stove may typically have both a primary and secondary air input controls or valves, these both need to be fully open. Light the newspaper in several places or the firelighter and gradually add larger pieces of wood as the fire burns. Beware of putting on too much wood at once as this will lower the temperature.